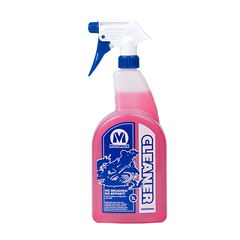 Motomuck 1L Spray Bottle
1 Litre of Motomuck Original Cleaner This bottle comes with its own Pro trigger sprayer and is great for smaller applications. The trigger is a high quality adjustable unit, and facilitates easy use.
Motomuck Original Cleaner is a product the Motorsport and enthusiast market has been crying out.
Motomuck Original Cleaner is a non-caustic, acid free cleaner that won't start fading your trusty steed's aluminium, alloy or plastics over a period of time. It will however cut through all that new or old grime, and bring out the original lustre that hides beneath that dirt.
The best thing about this cleaner is that will leave a protective film which will help prevent dirt sticking, and enhancing the surface finish.
No need for brushes to get in to those tight fiddly bits around the motor or elsewhere, just spray on a layer of Motomuck Original Cleaner, left on for 5-10 minutes, and then spray off.
Pickup only from the warehouse in Heidelberg West Vic